---
SPORTBOX is a unique betting terminal. The key to future betting is live betting. Many world bookmakers already have a ratio of pre-match and live betting of up to 20 to 80.
SPORTBOX provides services of live betting that are full-fledge with betting that are offered by bookmakers on the Internet. In addition, an interactive betting terminal from DOXXbet delivers the widest possibility of live betting on the Slovak market.
SPORTBOX offers a choice of many kinds of sports, which meets the expectations of even the most demanding sports fans and professional players, as well as the live betting being filled in the time while awaiting for the results of the submitted match.
---
---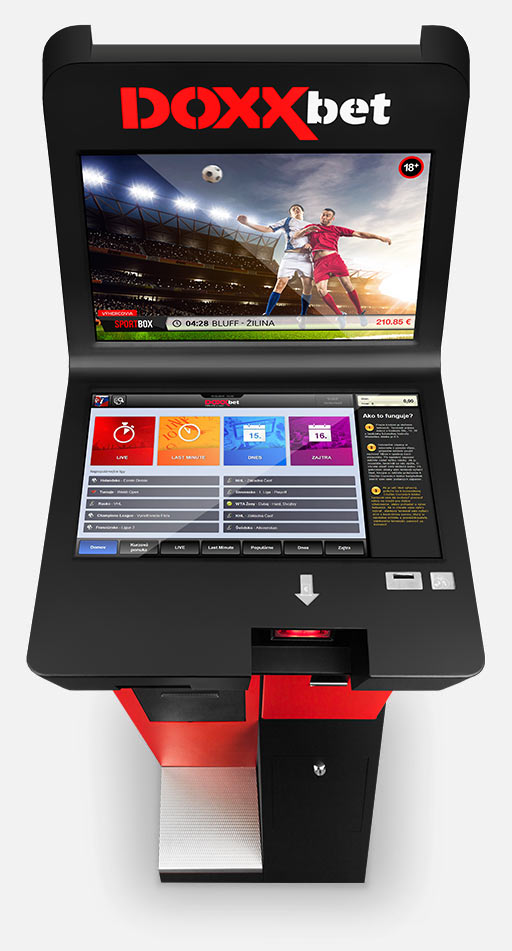 Return on
investment
---
Interactive betting terminal from DOXXbet guarantees betting with strong risk management. In this regard, the most important is that the odds are set correctly on any sport event. Bet odds are set optimally in such a way that they will not deviate from the usual standards of the World bookmakers.
Sportbox DOXXbet also gives operators the opportunity to improve their services and offer to customers a superior confident return on investment.
---
Possible
applications
---
The actual attractiveness of betting DOXXbet terminals inherently contributes its attractive design.
Particularly interesting is the attractive graphical design of the interface, which offers the player a practical usage of the reporting feature of Sportbox. The simplicity of this interface ensures that the player will not be confused when searching for betting opportunities. Efficiency will minimize the number of clicks needed to carry out betting and deployment controls buttons.
It is also important to mention that Sportbox DOXXbet has two screens with eye-catching graphics which without doubts increases its attractiveness for the end user.
---
Promo video (EN)
---